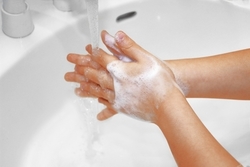 To all our staff, Thank you for your cooperation in the company's health and hygiene management measures.

The number of people infected with the new coronavirus has been increasing nationwide since the Golden Week holidays. Highly infectious mutations are also expanding rapidly, and the situation continues to be tight.

"Emergency Declaration" has been extended in 4 prefectures, and the neighboring Aichi Prefecture has also declared an emergency. It has been added to the target area, and the risk of infection is imminent.

I understand that there is a great deal of anxiety and fatigue in a prolonged self-restraint life but the supply of vaccinations is also gradually expanding.

To prevent infection with the new coronavirus, We must raise the awareness on health management even more. Let us thoroughly strengthen the measures against the infectious diseases.

【health care】
Let us conduct our health care by wearing a non-woven mask, diligent hand washing, gargling, hand sanitizing, eating a well-balanced diet, getting enough sleep and rest, etc.
Develop your lifestyle, such as living a regular life and increasing your physical strength and body resistance.

[Avoid going out unnecessarily]
Refraining from going out unnecessarily and urgently, even if there are no symptoms, alleviates the "denseness" caused by congestion. It will help protect you and the people around you. We are in a situation where we don't Know "who and when can be infected".
To protect yourself, to protect the people around you and in your workplace, to protect your family, we are asking for your continued understanding and cooperation in strengthening the prevention of the spreading of infectious diseases. thank you.